Site manager at Calderwood wins prestigious award!
Scottish Construction Now has confirmed that ten of Taylor Wimpey's site managers are celebrating having each won a prestigious national housebuilding award. Of the 16,000 entries across the UK, Eddie McCann (Taylor Wimpey Site Manager at Calderwood, East Calder) is one of the winners of the Scottish NHBC Pride in the Job Quality Award.
Each of these site managers now goes forward to the Scottish regional awards final to be held in Glasgow in October to find out who's the best of the best in Scotland.
The award recognises an individual's dedication to building high-quality homes for new homebuyers, and they are presented following a rigorous judging process by NHBC inspectors. This includes assessing the developments throughout the year, as well as spot checks, which gives homebuyers the assurance that award-winning developments provide top-quality homes and excellent customer service.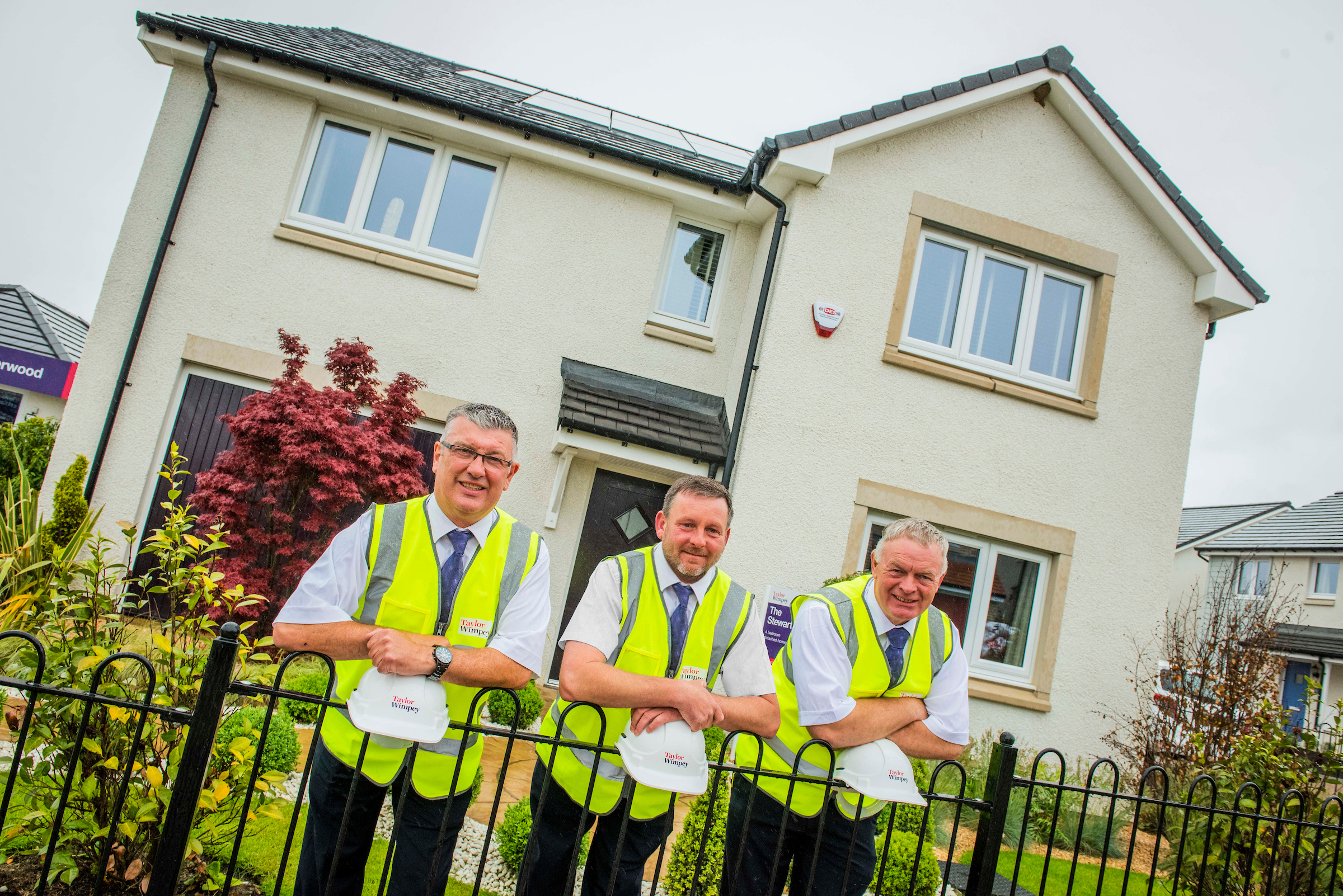 Eddie McCann (far right) outside the Taylor Wimpey show home at Calderwood.
Brian Henderson, production director for Taylor Wimpey West Scotland, said: "Across our two Scottish business units, we're really proud to acknowledge that we have some of the best site managers in Scotland.
"Having a total of 10 site managers through to the final stages of the NHBC Pride in the Job Awards is fantastic news and recognises our drive to deliver the highest levels of quality, service and customer care for our customers right across Scotland."
Martyn Campbell, production director for Taylor Wimpey East Scotland, added: "We are committed to maintaining the highest levels of quality and customer service, and this recognition has ensured that we continue to be an NHBC award-winning housebuilder year after year. While many of our site managers have won previous Pride in the Job Awards, competition for an NHBC Quality Award continues to be tough, and this year's awards are thoroughly deserved in recognition of an impressive team effort at our developments across Scotland."